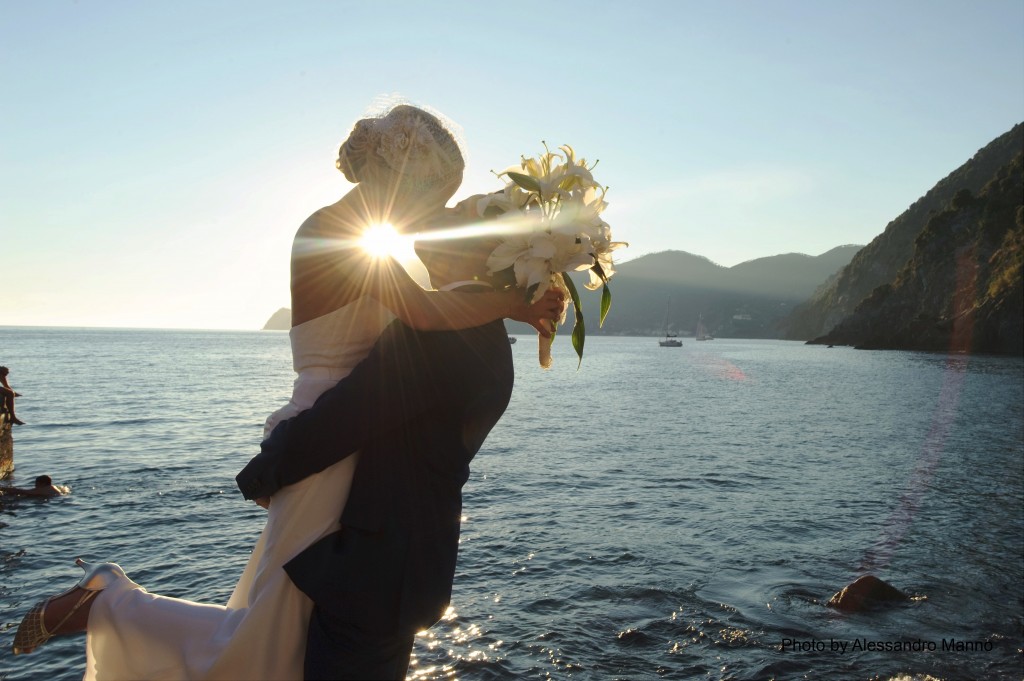 21 Nov

Basia and David's Cinque Terre Wedding

Real Wedding Feature: Five Lands, Five Tips and Five and a bit Pics!

For Australian, Basia, and British, David, it was love at first sight – love for each other and love for the Cinque Terre.

It was while on a working holiday in London that Basia first met David at a party thrown by mutual friends – the start of a beautiful love story that would take them around the world. It was on Koh Phayam Island in Thailand that David proposed to Basia over a candlelit seafood dinner, right in front of a sea that was sparkling, as if on cue, with the natural phosphorescent lights of the underworld.

Then this loved-up couple fell in love all over again, when they came to the Cinque Terre for a holiday. Vernazza in particular stole their hearts, and so, from all the places in all the world, it was in Vernazza that this beautiful, tranquil and effortlessly radiant couple chose to join their hearts together forever.

Why a destination wedding? There are a few reasons why we chose a destination wedding. We are from different countries – David is from the UK while I'm from Australia. We always said that when we got married, we would do it somewhere other than our respective countries. One of our main passions in life is travel, so we wanted this to be part of our special day as well. We were also living in London at the time and we really wanted to get married somewhere with beautiful weather and amazing food – the UK wasn't going to cut it!

Why a Cinque Terre wedding in Italy? We went on holiday to the Cinque Terre one year after hearing great things from friends. We absolutely fell in love with the place, especially Vernazza, which is where we chose to get married. The Cinque Terre is a stunning part of Italy with five villages on cliffs overlooking a beautiful sea. The villages are small and have a traditional feel. The locals are friendly and the food is to die for – some of the most delicious produce we've ever come across. We thought it was the perfect place for us to get married.

How was the planning process? The planning process was smooth and painless from beginning to end. We cannot recommend Melina highly enough. She was fantastic throughout the whole process. The process was extremely well organised with excellent communication. We were living in London at the time and we communicated with Melina via email and Skype – this worked perfectly.

What was the best part of your Cinque Terre wedding in Italy? It's so hard to narrow down our best part of the day because it was all so fantastic. If we have to choose, we would say it's an equal tie between our ceremony which had an amazing setting overlooking the sea and the dinner – there was so much food and everything was absolutely delicious!

Top Tip for future Cinque Terre Wedding Brides and Grooms? Stay relaxed and take in every part of your special day. The Cinque Terre is a wonderful place, it's naturally laid-back and if you feel relaxed, you will get the most out of it.